What Is Derma Bond And What Is It Used For?
What Is Derma Bond And What Is It Used For?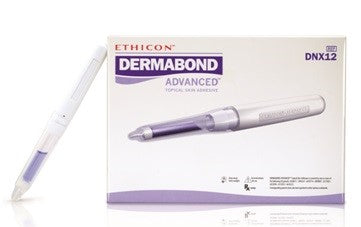 Derma bond is an effective alternative to suturing incisions or wounds that would normally require sutures measuring 5-0 in diameter or smaller. Derma bond is a cyanoacrylate tissue adhesive that reduces treatment time, as well as the discomfort of patients. The adhesive spans across both edges of the wound to create a water-resistant coating while the tissue underneath heals. Though this treatment is optimal for wounds or incisions superficial in nature, Derma Bond can also be applied to wounds where subcutaneous sutures are necessary. This treatment approach is welcomed by patients, especially children, who would prefer to avoid suturing. The cosmetic outcome with Derma Bond is similar to outcomes using traditional repair techniques.
Advantages of adhesive wound repair versus suturing:
Wound closure occurs in less than half the time.
Strength of bonding is maximum in two and a half minutes.
No needles are required for application, only situational topical anesthetic.
Overall repair time is quicker.
Better patient attitude towards treatment.
Covering is water-resistant.
Suture removal is avoided.
Where To Use Derma Bond
Derma Bond may be used on any number of lacerations or incisions located on the face, extremities, and torso, as deemed appropriate by the physician. Wounds of the torso and extremities are prone to better healing when sutures are placed subcutaneously. Should a physician elect to use adhesive treatment on wounds in areas of high mobility or tension (like joints), it is in good practice to immobilize the area to preserve the integrity of the adhesive.
Derma bond may be applied to wounds on the scalp, though it will need to remain dry for a minimum of five days to promote normal healing.
It is not recommended to use this treatment on animal bite wounds, wounds that may be highly contaminated, mucous membranes, puncture wounds, ulcers, or places prone to moisture, such as the groin area.
Using Derma Bond in Wound Closure
Proper cleansing of wounds, especially those that are deep, is essential regardless of closure technique. Though Derma Bond can replace sutures, anesthetic may still be necessary for thorough deep-wound preparation prior to closure. For smaller, shallower wounds, the use of an antibacterial compound and a sterile saline solution is generally effective for cleansing.
Follow these steps when using Derma Bond:
Employ topical anesthetic as necessary.
Cleanse wound thoroughly.
Determine the edges of the wound.
Crush the Derma Bond vial and then invert.
Brush the adhesive over the laceration area with care.
Hold wound edges together for a minimum of 30 seconds.
Avoid putting adhesive into the wound itself.
Apply two additional layers in a slightly larger area, for three layers total.
Wipe away any runoff adhesive.
As the adhesive is water-resistant by nature, additional coverings are unnecessary. Patients are free to shower regularly and ought to pat the wound area dry as it heals. However, children may need bandages to dissuade picking at the area, and long baths are to be avoided as they may promote premature peeling of the adhesive. Derma Bond will begin to peel away on its own in approximately five to 10 days following application.
Dr. Nate Whittaker, MD Emergency Medicine Specialist